Eeuwenlang heeft de oceaan een enorme aantrekkingskracht gehad op de mens. En nog steeds. Voor de overleving, maar ook voor het plezier jezelf letterlijk en figuurlijk onderdompelen in en met de natuur. Op het kruispunt van dit genieten en de eeuwige zoektocht naar het ontoereikende, is het surfen ontstaan. Vandaag de dag is dit romantische ideaalbeeld van surfen als pure vrijheid gemeengoed geworden. Velen dromen ervan, sommigen hebben de sport weleens beoefend, maar weinigen leven het. Hoe is dat nu eigenlijk? Een kleine duik in de wereld van deze tegendraadse subcultuur.
Een typische dag in het leven van

Australië. Zoom-in: oostkust. Zoom-in: de stranden ten zuiden van Sydney. Zoom-in: Narooma.
06:00 uur: De schemering begint te komen. Zodra het licht wordt, is het zaak om het water te checken. Ik open de deur van mijn stationwagon en stap uit. Vanuit de parkeerplaats is het 10 seconden lopen naar het strand . De golven zien er goed uit. Een paar lokale jongens zijn bezig hun wetsuits aan te trekken, de vogels scheren over het water. Ik begin mij ook om te kleden en ga het water in.
7:30 uur: Na anderhalf uur surfen begint de honger te komen. Ik ga het water uit, trek mijn wetsuit uit en bereid de koffie voor op een draagbaar gasfornuis. Ontbijten doe ik in lotushouding op mijn bed achterin de auto, met het zicht op de oceaan.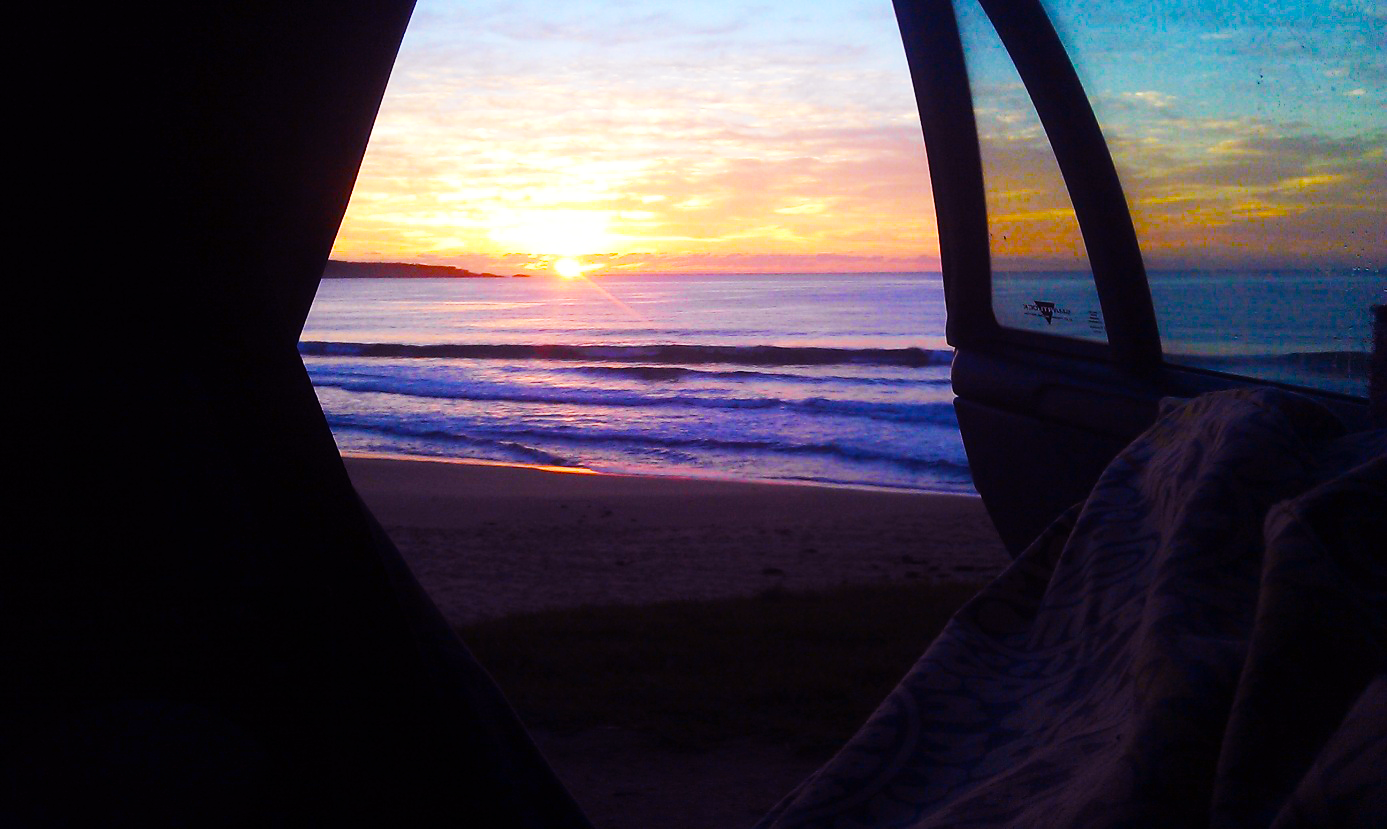 9:00 uur: Het tij begint op te komen. Met een offshore wind geeft dit de golven een goed gevormde en zuiverder break. En daardoor makkelijker te berijden. Tijd om weer in het water te gaan dus.
10:30 uur: Na het merendeel van de ochtend gesurft te hebben, besluit ik verder te trekken. Ik berg mijn surfplank op in de achterbak, start de auto en begin de weg te volgen naar het zuiden. Bob Marley komt uit de speakers.
12:30 uur: Na een album of twee, ben ik aangekomen in het Mimosa Rocks National Park. Ik ga van de snelweg af en volg een zandweg door een bos van gumtree`s die volgens de kaart klaarblijkelijk op een strand uitkomt. Eenmaal daar aangekomen, blijken de golven nagenoeg perfect! En wat nog meer: er is vrijwel niemand te zien, afgezien van een paar surffanaten die dit paradijs ook ontdekt hebben.
14:00 uur: Ik raak in gesprek met een medesurfer. Ik vraag hem waar goede plekken zijn om vis te vangen. Hij raadt mij het plaatsje Tathra aan, dat hier niet ver vandaan is. Ik volg zijn advies op en rijd die richting op.
15:00 uur: Het is zaak om alvast een slaapplek te vinden. Soms is het mogelijk op of vlak nabij het strand te kamperen met je auto. In Tathra blijkt dit zo te zijn: het volgen van een kleine zandweg leidt uiteindelijk naar een dijkverhoging, waar je zicht hebt op het gehele strand.
17:30 uur: De laatste twee uur ben ik wezen speervissen nabij de rotsen van de zee. Want wat maakt een waterman-levensstijl compleet zonder je eigen diner bij elkaar te vangen? Vandaag staan makreel en red snapper op het menu.
20:00 uur: De zon gaat onder. Hout is al verzameld voor een klein kampvuur. De rest van de avond zal gaan zoals veel andere avonden: met een bevredigend gevoel de zonsondergang tot schemering en uiteindelijk tot duisternis aanschouwen. Met de miljoenen sterren boven mij.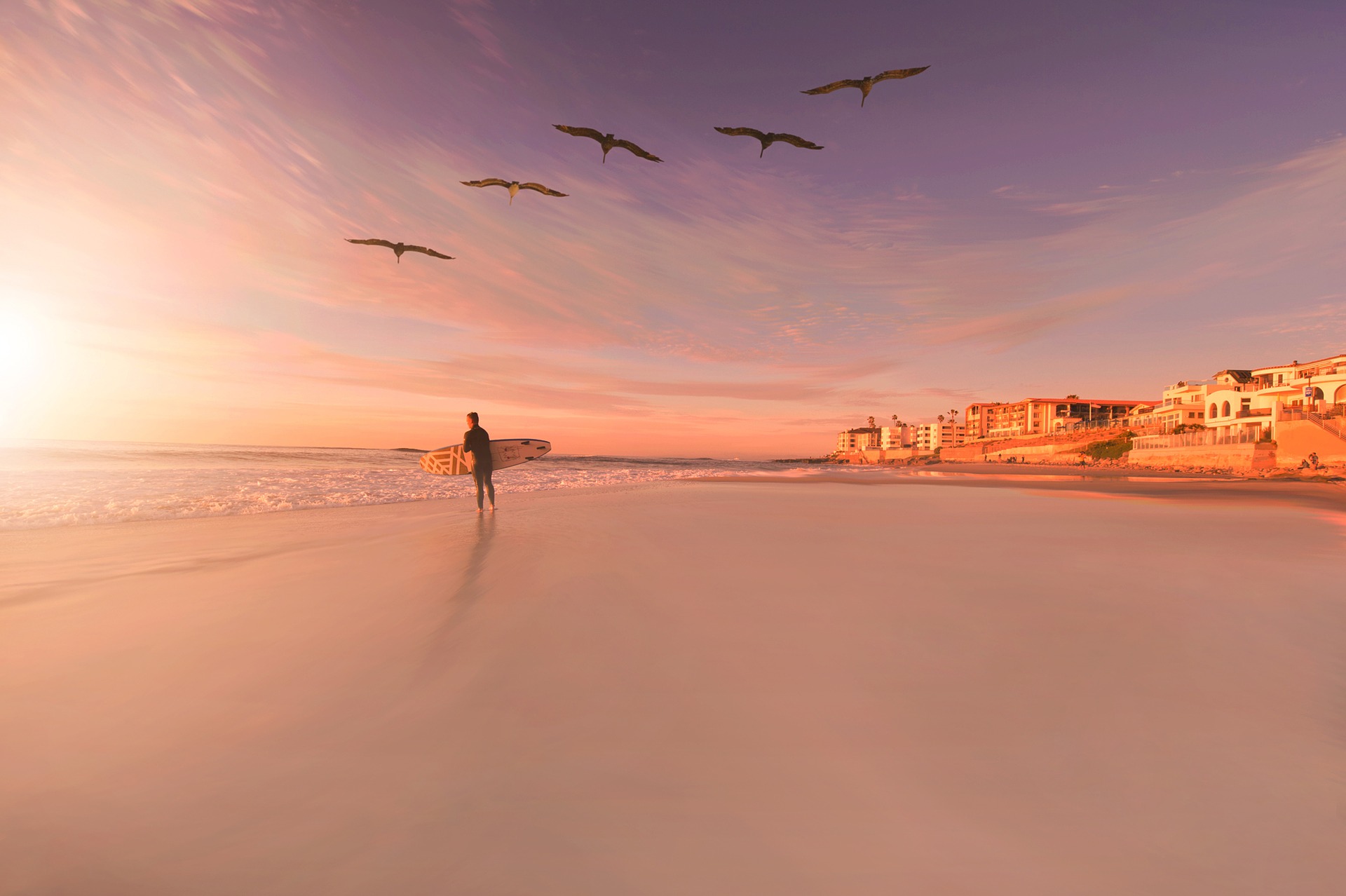 Surfen als middelvinger naar de maatschappij
Surfen heeft twee gezichten. Het ene heeft de vorm van een globale mega-industrie. Met grote merken als O'Neill, Quicksilver en Rip Curl zorgt de sport jaarlijks voor miljarden aan inkomsten. Surfen is big business. Het andere gezicht geeft de oorspronkelijke gedachte weer: surfen is juist een tegenreactie op de consumptiemaatschappij. Het is een fuck you naar burgerlijke idealen. Dit statement zie je dan ook terug wanneer je als surfer het water in gaat. Door het peddelen naar de golven toe, keer je hiermee de samenleving letterlijk de rug toe. De levensstijl van het surfen is dan ook onlosmakelijk verbonden met stressvrij zijn. Het verlangt immers niks anders dan een surfplank en goede golven. De rest is bijzaak. Puur escapisme. Weg van beklemmende verplichtingen en een leven dat bijna gedicteerd lijkt door anderen. Echter, wie denkt dat dit een eenzaam bestaan is, vergist zich. De beste vriendschappen komen voort uit het spelen met de oceaan. Er gaat niks boven het gezamenlijk afwachten wat de zee vanuit de horizon zal brengen.

`The best surfer out there is the one having the most fun`

Je staat op het strand met je surfplank onder je arm. Je leest de golven en ziet een opening, dus je rent het water in en peddelt richting de plaats waar de golven breken. Eenmaal daar aangekomen, zie je een perfecte golf op je afkomen. Binnen een fractie van een seconde besluit je om hem te nemen, waarna je als een maniak begint te peddelen. Voor je het weet, voel je de break en spring je op je plank. De rest gaat vanzelf. Alles valt weg. Voor even bestaat er niks anders dan het berijden van de golf en een oprecht gevoelde connectie met de natuur. `Geen slechte manier om de dag te beginnen`, zul je tegen jezelf zeggen, al uitkijkend naar de volgende golf.